Copper Woven Wire Mesh for industrial screening, filter and electromagnetic shielding uses
Woven copper meshes are woven from a variety of copper and copper alloy wire materials. We manufacture and fabricate woven copper mesh screens for a variety of industries including test sieves, filter, EMI/rfi shielding, heat treating and more.
Common material content: Red copper wire (99.9% pure copper content), phosphor copper wire (85%-90% copper, 5%-15% tin).
Weaving patterns: Plain weave, twill weave, dutch plain weave, dutch twill weave.
Item
Red copper wire mesh
Brass wire mesh ( Copper + Zinc Alloy)
Phosphor bronze wire mesh

Tinned copper wire mesh
Materail
 99% pure copper wire
H65 wire (65%Cu-35%Zn )
Copper + Tin + bronze alloy wire
Tinned copper wire
Mesh count
2-250 mesh
2-250 mesh
2-350 mesh
2-100 mesh
Weave type
Plain/ twill/ dutch weave
Common size
width 0.5-1.5m; length 30m/roll,Aslo can be as per your demand
Common feature  
Nonmagnetic, good ductility, wear resistance, fast heat transfer,  good electrical conductivity
Features
Sound insulation; Electron filtration;
Newspaper/chinaware printing ; Smoking screen;
Chinaware printing, screening all kinds of particles, powders, and porcelain clay
High temperature resistance, anti-aging, and long service life
Application
EMI/rfi shielding; Faraday cage;
Engine filter to car, Noise reduction, damping(suspension )
Weaving pattern is the way in which the warp and weft wires are linked.
Plain weave -Each warp wire crosses alternately above and below each weft wire. Warp and weft wires generally have the same diameter.
Twill Weave -allows a thicker wire and is suitable for heavy meshes. The wire position of twill weave wire mesh is less stable compared with plain weave.
Dutch Plain Weave -similar to plain weave, while the warp wires are thicker and packed more closely together. This type of woven wire mesh is mainly used as industrial filter cloth.
Dutch Twill Weave -combination of dutch weave and twill weave. It is similar to twill weave, but the warp wires are thicker and packed more closely together. This type enables a strong wire cloth with super fine filtration. for fine filtration.
Five Heddle Weave -smooth top surface and an open lower surface. It is ideal to withstand high mechanical strain and excellent filter performance.
Reverse or Reinforced Dutch Weave -the same as dutch weave except the warp and weft wires are reversed. the weft wires are thicker than the warp wires. the opening of the two nearby orientated wires (warp wires or weft wires) at dutch weave is difficult to define.
Copper Woven Wire Fabric Types: Copper Mesh, Brass, Bronze, Phosphor Bronze Wire Mesh
Plain Woven Copper Mesh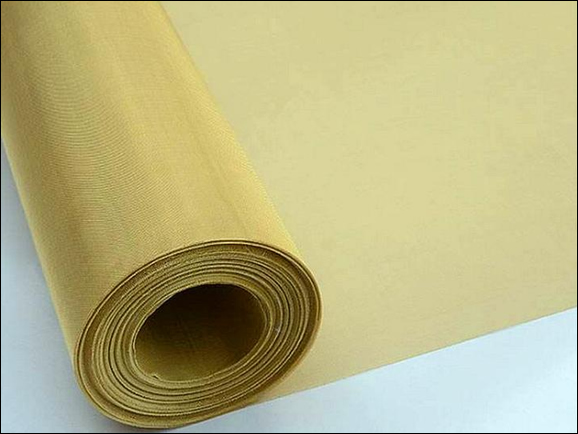 30x30 woven wire mesh screen, square hole fabric
Copper Alloy Woven Wire - H65 Brass Woven Wire Screen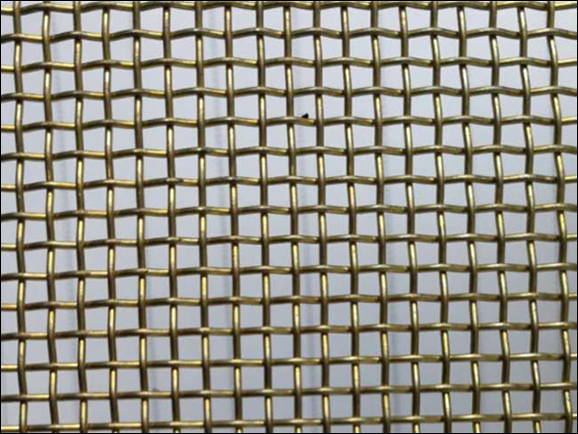 Pre-crimped coarse mesh brass cloth, material H65 brass (about 65% copper, 35% zinc)
Specifications: 0.5 mesh, 1 mesh, 2 mesh, 3 mesh, 5 mesh, 6 mesh, 8 mesh, 10 mesh, 20 mesh, 28 mesh, 30 mesh, 40 mesh
H80 Brass wire mesh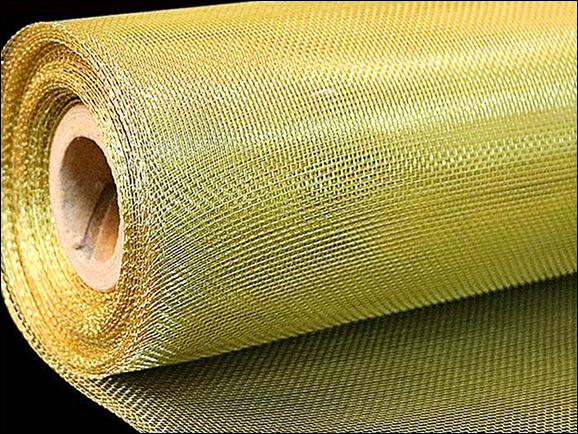 Materials: Brass wire, H80 brass (about 80% copper, 20% zinc)
Mesh: Plain weave, 6mesh/inch to 160mesh/inch, twill weave to 280 mesh/inch.
Square hole mesh, 0.2mm diameter, 0.5mm thickness mesh copper mesh as popular type
Phosphor Copper Wire Mesh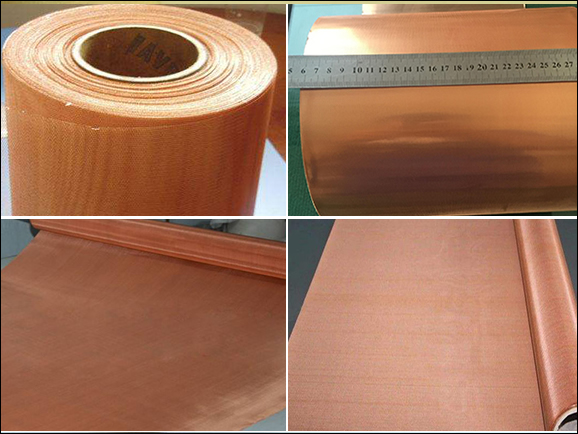 Material: Phosphor copper wire (85%-90% copper, 5%-15% zinc)
Features: Non-magnetic, wear-resistant, acid and alkali resistant, and good extensibility.
Mesh: Plain weave generally ranges from 5 mesh to 185 mesh, and twill weave is higher than 400 mesh.
Use: Usually used for printing and dyeing of powder, ceramic clay and glass, ceramics and filtering liquid and gas.
Red Copper Mesh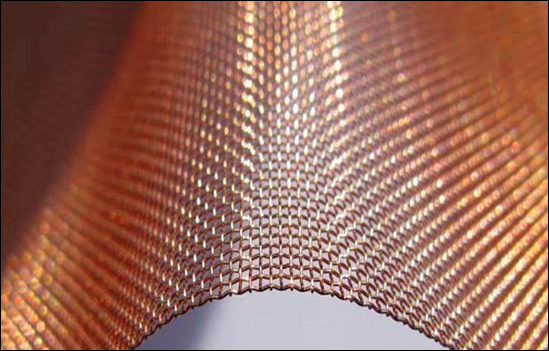 Purple or red copper mesh, plain weave and twill weave:1 mesh-300 mesh
Choosing Woven Wire Cloth for Filtration and Screening Uses:
Copper and Brass wire mesh have proper tensile and extensibility. The higher the mesh number, the denser the mesh per unit and the smaller the opening. On the contrary, the lower the mesh number, the finer the aperture and the better the filtration performance.