We offer quality copper perforated sheets and expanded sheets, in red metals and other metals
Red metals refer to Copper and copper alloy metals ( brass and bronze), with reddish metallic color. Copper is a pure metal, brass is copper and zinc alloy, bronze is a copper + tin alloy.
We export copper perforated sheets to Poland, USA, Dubai, India, Canada and other countries.
We offer sheets perforation process and cutting, bending, notching, anodizing, painting and other further fabrication services.
We offer precise cutting of the prepared sheets according to size or drawing:
Sheets / plates available in sizes of 158mm x 100mm, 15"x15", 4' x 8', 2mx1m, 30cmx30cm,400x60 mm, 36'' x 40'', 1250mm x 2500mm, or custom cut size per customers requirements.
Copper .016 thick x approximately 12" x 12" with holes approximately ¼" diameter in 5/16" centers (can be straight or staggered).
Perforated copper sheet. The sheet needs to be 0.7-1mm thick and the holes need to be between 5-10mm wide.
General Ranges of Perforated Metal Sheets:
Hole Type of perforation: Round hole, oblong hole, square hole, decorative.
Hole size: 0.5mm to 30.00mm
Plate thickness: 0.3mm to 4.00mm
Material: Copper, Brass, Bronze, Mild Steel, Galvanized, SS 316, SS304, Aluminum, Nickel, Titanium.
Our capacity and capability are as given below:
Perforated Copper Sheets

Grade: ETP Copper (99.99%)
thickness: 0.8mm
sheet size: 158mm x 100mm
hole dia: 1mm
pitch : 3mm
Expanded Copper Mesh Sheets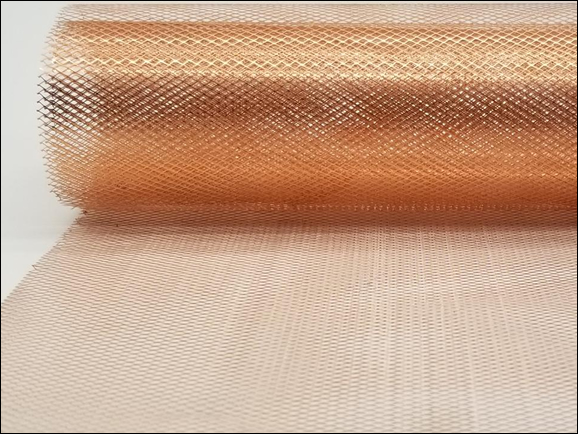 0.05mm thin film of expanded copper metal foil
Foil thickness: 0.05 mm, 0.1 mm and 0.15 mm
Opening 0.8 mm x 1 mm
Flattened Copper Expanded Diamond Mesh
¾" opening in a diamond pattern for building wall cladding and decoration

Flattened Expanded Diamond Mesh Specification

Thickness (mm)
SWD (mm)
LWD (mm)
Wire Stem Width (mm)
Width (m)
Length (m)
Weight (kg/m2)
0.5
2.5
4.5
0.5
0.5
1.0
1.8
0.6
10
25
1.0
0.6
2.0
1.0
0.8
10
25
1.0
0.6
2.0
1.25
1.0
15
40
1.5
2.0
4.0
1.85
1.2
15
40
1.1
2.0
4.0
2.3
1.5
15
40
1.5
1.8
4.0
2.77
2.0
22
60
2.1
2.0
4.0
3.69
Copper Perforated Tube
Copper Alloy / Brass Net Perforated: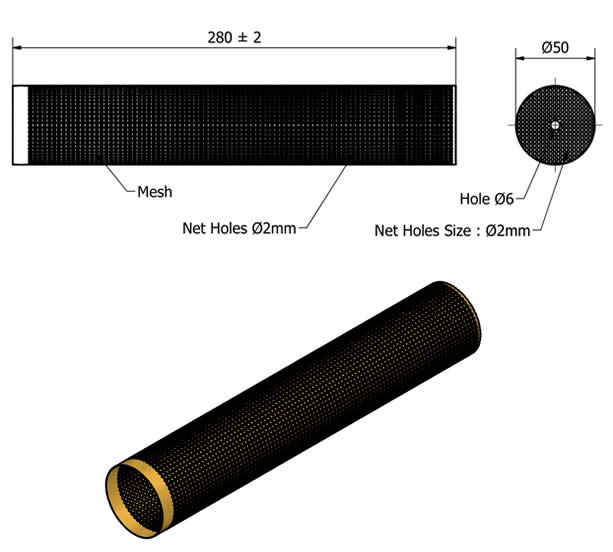 Copper + zinc alloy net ( Brass net)

Material: Brass ( copper and zinc alloy)
Sheets of Perforated Copper, 40% Open Area, Exported to North America
Specifications exported to Canad:
Sheet size:15" x 15", detail specifications:
.062-0.125 thickness / 16ga
Max. 0.125 holes
Approx. 0.1875 hole spacing
Min. 40% open area minimum
Copper perforated   .016 thick,  12" x 12" with holes ¼" diameter in 5/16" centers, straight or staggered
Perforated copper sheet, 0.7-1mm thickness, 5-10mm holes.
Perforated copper sheets, 1.5mm ( 0.060") thickness, holes max. 6mm ( .250" )
Copper Perforated Sheet, Round Hole Pattern
Copper sheets 4' x 8'
Material:Aluminum or copper
Aluminum Type: Alloy 3003
Condition/Temper: H14 Temper (half hard)
Hole: Round
Shape: Sheets
Opening Pattern: Staggered
General Opening Size: Fine
Hole Diameter: .125"
Center-to-Center Spacing: 3/16"
Standard sheet size: Width 36" x Length 40"
Sheet thickness: .032"
Gauge: 20
Perforated Sheet, Both Aluminium and Copper
Plate size: 36'' x 40''
Thickness: 0.075''
Hole pattern and shape: Round staggered
Hole diameter: 0.125''
Pitch: 0.188''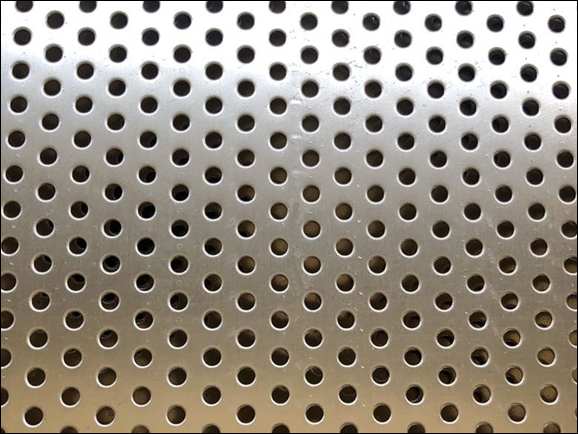 Nickel and Copper Perforated Sheets
400x60 mm sheet
Material: Cu pure 99,9+ min.
Sheet thickness 0.5 mm
Perforation on a square 40 x 40 mm (holes 2 or 3 or 4 mm, distence between holes = 0,5 *diemeter).
Each element cut on four sides in rectangular shape plate.
Material: Cu pure 99,9+ or higher, thickness 1.0 mm
Material: Ni pure 99,9+ or higher, thickness 0.5 mm
Material: Ni pure 99,9+ or higher), thickness 1.0 mm
Copper Perforated Sheeting, Round Hole Pleated or Corrugated Cladding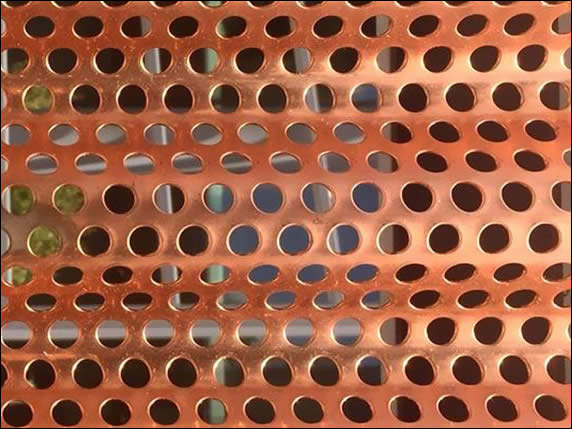 Residential building front façade panels.
Finish: Pleated or corrugated in a metallic copper / copper colour
Extruded sheet with round holes (approximately 10 - 20mm in diameter)
Perorated Metal Sheets
MS perforated sheets, Hole Dia 1.5mm, sheet size 2mx1mx1.5mm
Brass perforated sheets, Hole Dia 1.5mm, sheet size 2mx1mx1.5mm
Corten perforated sheets, Hole Dia 1.5mm, sheet size 2mx1mx1.5mm
Copper perforated sheets, Hole Dia 1.5mm, sheet size 2mx1mx1.5mm
Perforated Copper Sheet for Electrical Application
Corrugated sheet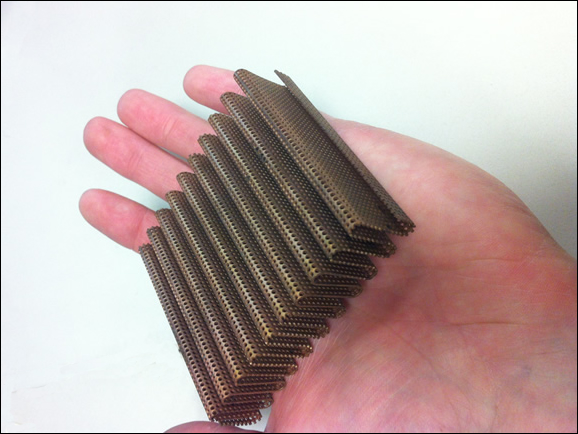 Thin Copper Sheet
Thin perforated copper sheet
Thickness 0.3mm
Hole diameter 0.4mm
Fraction about 30%
Sheet size: 30cmx30cm